As you might have guessed, this thread is the one in which to post anything do with the Touhou Project series created by ZUN. You know, the Japanese indie shmup series with mythological elements often taking the form of magical girls who resolve conflict by shooting magical nonlethal bullets at each other incorporating powers so OP they'd make Jojo's Bizarre Adventure Jealous. That one.
So just recently, ZUN announced that he's gotten to work on the 16th installment of the Touhou Series: Touhou Tenkuushou- Hidden Star in Four Seasons. It's got four playable characters. We've got Reimu and Marisa, obviously. Reimu representing Spring and Marisa representing Winter. We also have Aya (Who last appeared in Double Spoiler), representing Autumn, and- wait...
WUT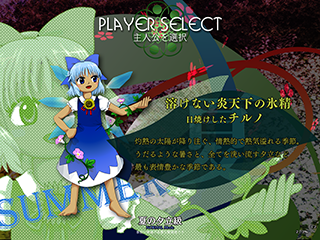 WHY DOES CIRNO HAVE A TAN.
WHY DOES SHE REPRESENT SUMMER.
SHE IS AN ICE FAIRY.
I DON'T EVEN